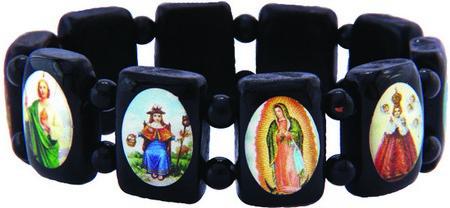 Holy Saint Stretch Bracelet - Black Wood - Black Spacers
This unique Solid Black Wood Bracelet features images of the Saint s, Jesus and Mary. The holy images on this bracelet include Divine Mercy Jesus, Infant of Prague, St. Jude, Caridad del Cobre (Our Lady over the sea), St. Padre Pio, Sacred Heart of Jesus, Our Lady of Guadalupe, Our Lady of Grace and more. Made of high-quality South American wood by craftsment in Brazil. One size fits all.

And it came to pass, when Jesus had finished all these sayings, he said unto his disciples,

- Matthew 26:1
To see wholesale pricing, register at Religious Brands Wholesale page.