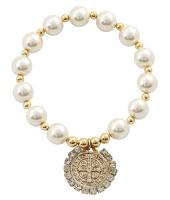 Madonna Cherry Wood Stretch Bracelet - Silver Spacers
This Gorgeous large wood bracelet with 11 assorted images of Madonas is stretchable and can be worn by anyone. Made in Brazil.
Each rectangular piece is approximately 3/4" x 1/2" and are separated by wood spacer beads.
Please Note: Images vary per bracelet
Made of high-quality South American wood by craftsmen in Brazil. One size fits all.

SKU: 37195