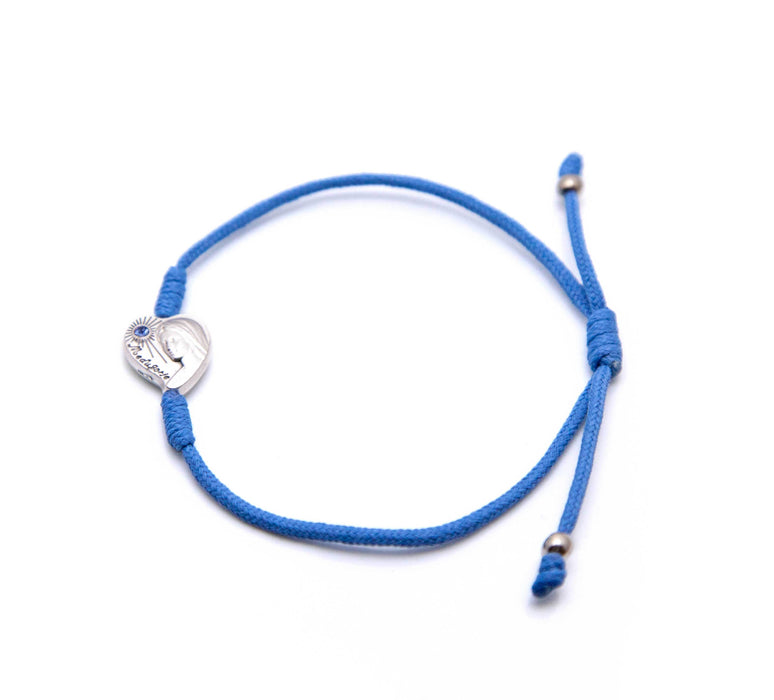 The original Medjugorje Mir Bracelet by our signature brand Apostle Gear is handmade by families in Medjugorje and has been imported into the USA for immediate shipping. It comes in a beautiful Apostle Gear gift box, ready for a special occasion or safekeeping.
One side of the heart-shaped silver medal on the bracelet features a raised image of our Our Lady, the Queen of Peace, alongside an image of the sun with a sparkling blue jewel inset within it, and the word Medjugorje at the edge.
The other side of the medal features the words Medjugorje - Mir Mir Mir etched in a circular pattern. The Croatian word Mir translates to Peace in English. In one of the first apparitions, Our Lady said these words emphatically to the visionaries, and, on another day, locals and pilgrims in Medjugorje saw the word Mir written in the sky.
The Medjugorje Mir Bracelet's sturdy slip-knot makes this a one size fits all piece of religious jewelry. The bracelet comes in two colors: Marian Blue and Angelic White.
To see wholesale pricing, register at Religious Brands Wholesale page.