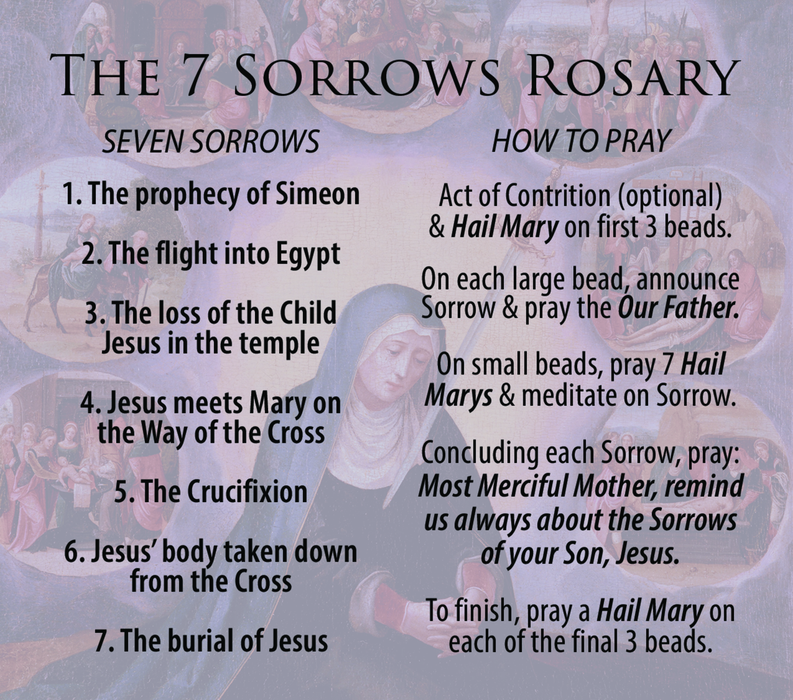 Seven Sorrows Rosary Pocket Guide - 15-Pack
Our 7 Sorrows Rosary pocket guide, made exclusivly by Apostle Gear, is a handy, durable, folded prayer manual that fits perfectly in a wallet, pocket, or purse.
FEATURES
When folded along the scored centerline, it's the size of a traditional holy card or business card!
The front features beautiful artwork depicting Our Lady of Sorrows.
The two inside pages list the 7 Sorrows of Our Lady and instructions on how to pray the 7 Sorrows Rosary.
The back features ancient art depicting each of the Seven Sorrows, with a central image of Our Lady.
Designed in-house by the Apostle Gear graphic arts team, you won't find more unique, practical, and beautiful rosary guides anywhere.
The guide typically is used with a Seven Sorrows Rosary (which have different bead configurations), but the prayer can also be prayed without a rosary.
Printed in full high-gloss color, the folded card is about the size of a business card (3.5-inches high by 2-inches wide). They're perfect for giving away and encouraging people to pray the rosary.
The Seven Sorrows Rosary pocket guide is for sale here in a bulk pack of 15 guide for one low price. It also comes free as a single guide with some of our Seven Sorrows Rosaries.